How to Set up a Blog for Beginners
You probably came across this blog post because you want to set up a blog and make money from home. Blogging is a fun and creative way to make money. It is particularly nice if you no longer want to work for a boss, you do not want to depend on a location and you like to educate people.
But it's definitely a lot of work and can be confusing at first. That's why in this article I will explain to you step by step how to set up a blog for beginners.
NOTE: This free guide contains affiliate links. This means I earn a small commission if you decide to purchase via one of them. I am an affiliate for Bluehost.
First, let's explain some terms.
Hosting provider = like the home of your website. It's where all your files will be stored. All websites need web hosting. For this guide we will use Bluehost.
Domain name = the address of your website that people will type in their browser, also known as the URL.
WordPress.org = the most popular (free!) website creator platform in the world.
Why should I start a blog?
There are many reasons why you might want to start a blog. Do you want to make money, work on your writing skills, or are you doing it just for the pleasure of journaling?
For me personally blogging is the perfect way to improve my English writing skills. I also cannot stand 9-5 since I have a physical disability and I need to earn money. When done right blogging can earn you some nice extra income. And you can do it regardless of where you live in the world – which is a big pro to me!
HERE'S HOW TO SET UP A BLOG FOR BEGINNERS IN EASY STEPS:
STEP 1 | Choose your niche
Before you start blogging it's important to have a niche. A niche is a specific topic or product you will write about. It's really important that you write about what you're passionate about or love doing. To earn money blogging you will spend a lot of time writing and researching. You will be enjoying it more when it's about something you actually like. What's your passion?
There are many different blog (sub)niches:
· Food
· Personal finance
· Health
· Art
· Makeup
· Tech/gadgets
· Animal/pet
· Parenting
STEP 2 | Choose a platform
WordPress.org is the most popular website creator platform in the world.  For good reasons: it is free and offers you countless of customization options. WordPress is free, but you still need a hosting provider (such as Bluehost or Hostinger) and a domain name.
Why not a free platform or service?
If you want to earn money with your blog it is important that your blog looks professional. If you are just starting out, it is tempting to start with a free website maker. But if you want to earn money it is important that you do not go for a free service.
There are many reasons why you should avoid a free website platform, among them are:
You do not have complete control over your website.
The website is therefore not your property either.
Affiliate and ad companies will not take you seriously.
Because companies don't take you seriously, you won't be able to generate income either.
You usually can't pick your own domain name.
STEP 3 | Pick a domain name
The most crucial step to getting your blog started today is registering your domain name and setting up hosting.
With Bluehost your domain name is included for free as long as you sign up for at least a 12-month plan. Pick a domain name that fits your niche and is memorable to your visitors. Get creative!
STEP 4 | Choose a hosting provider
Don't worry, a good hosting provider doesn't have to be expensive and setting up a blog is not complicated. Web hosting is like the home of your website. It's where all your files will be stored. All websites need web hosting. 
The blog hosting company that I recommend
Hosting provider Bluehost offers the best value for new bloggers. Their seamless integration with WordPress makes hosting your site a piece of cake.
Some benefits of Bluehost hosting are:
FREE domain name for the 1st year
FREE SSL Certificate (essential to secure your website)
1-Click WordPress Installation
Starts at just $3.95/mo if you sign up using my link.
24/7 Support Service
You can get Bluehost webhosting for just $3.95 a month and will also receive a FREE domain name for the first year when you sign up using my link!
Let's get started
It's time to click here to go to Bluehost and get your domain and hosting. Hit the green 'Get Started' button. Choose the plan that's most suitable for you. There are four different plans: Basic, Plus, Choice Plus and Pro. I highly recommend getting Choice Plus as it allows you to have unlimited websites, contains unlimited domains and has Site Backup.
Choosing your plan will look like this:
Next, enter your desired domain name. Your desired name might already be taken, keep trying until you find an unclaimed domain that you'll love!
You'll then be asked to input your contact information and payment information to register a new account.
STEP 5 | Install WordPress on Bluehost
It's time to connect your hosting with WordPress. Bluehost makes it really easy to create a WordPress blog – for FREE! Once you're done creating your account and placing your order, Bluehost gives you an easy guide on how to start your WordPress blog.
STEP 6 | Choose a premium WordPress theme
After you installed WordPress using Bluehosts 1-click WordPress installation, make sure to familiar yourself with the WordPress dashboard. I know it may look complicated for now but you will figure it all out pretty quickly.
First, let's pick a theme. 
Like I mentioned earlier I don't recommend a free theme.

I don't recommend free themes for the following reasons: 
They are limited in customization options
You won't have any support
Your blog will end up looking exactly like a million other blogs
I would suggest investing in a premium theme.
This blog post contains a list of affordable, high-quality premium WordPress theme.
Once you picked your theme, upload it to WordPress and activate it. Go to your WordPress dashboard Appearance > Themes.
Logo
To make your business appear more professional, I would recommend investing a small amount in getting a logo made. If you're on a budget but don't know how to make one yourself, you should try hiring a freelancer on Fiverr.com. Fiverr contains several skilled logo designers that will help you for about $15.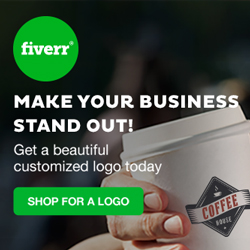 STEP 7 | Write your first blog post
To write your first blog post in WordPress, you need to find 'Posts' in your WordPress dashboard.
Then click 'Add New'. From there, you can add a title, text, images, links, the post's URL and description. After writing your post you can either publish your post, save it in drafts, or schedule it to be auto-published at a later time.
BLOGGING FOR BEGINNERS IN A NUTSHELL:
Pick a niche
Get hosting and a domain name at Bluehost
Install WordPress
Find a nice premium theme
Write your first post
My favorite blogging tools
Anddd that's it! I hope this post has helped you starting your blog. If you have any questions feel free to contact me on social media or comment down below.
Related Blog Posts: 
15 Minimalist Premium WordPress Themes for Lifestyle Bloggers
How To Open An Etsy Shop For Free – With 40 Free Listings
Useful? Pin it for later ↓