How to Use Pinterest for Your Blog and Get More Traffic
If you're a new blogger, figuring out how to use Pinterest for your blog can seem like a big challenge.

With 300 million active users (source) worldwide it is a shame to let Pinterest pass. My Pinterest engagement gained from 100 monthly viewers a month to now 100k+ monthly viewers a month.

But, how do you use Pinterest for blogging to skyrocket your blog traffic?

Today, Pinterest is my number one source of traffic. These tips will teach you how to use Pinterest for your blog and get traffic.
Here's what I did…
You might first need to read this post on how to set up a Pinterest profile for your blog or Etsy shop, before reading the following more advanced tips and tricks.
How to Increase your Blog Traffic with Pinterest
1. I invested in a course from an expert
When I first joined Pinterest I had no clue how I would get followers and engagement. After joining several Pinterest and blogging Facebook groups I slowly learned how followers and likes are not important at all.

When I joined a course from an experienced blogger that I found on one of the Facebook groups, something in my head finally clicked.

Pinteresting Strategies by Carly, is the most affordable course I could find for all the value it contains. It covers all the basics on opening your Pinterest business account, creating converting pins, Pinterest trends and more. I followed every chapter and saw my Pinterest views increase almost immediately.

Carly also includes her own strategies, tactics and statistics on how she reaches 250k+ (yes! thousand!) page views each month with Pinterest.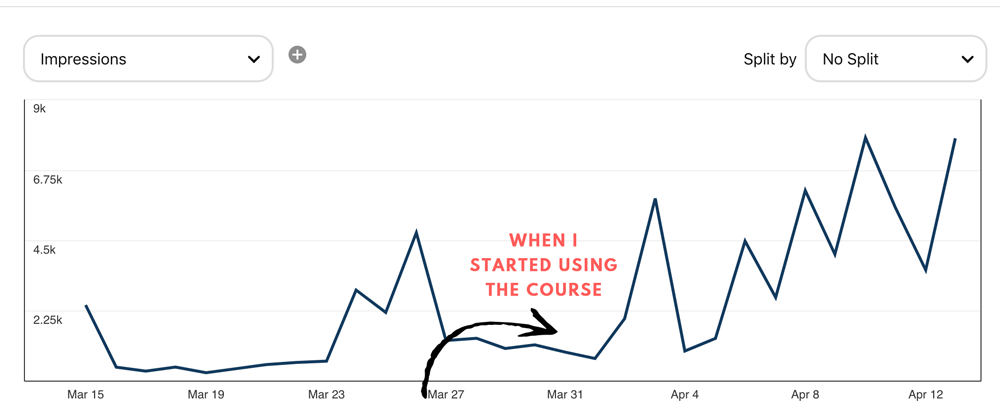 2. I added Pin buttons to my website
More people will pin your content and follow your profile when you literally put it in front of them. That's why I added a few Pin buttons and my Pinterest profile to my sidebar.
Place your Pinterest board in your sidebar:
– Pinterest has their own developer section which contains several codes you can add to your website. Visit it here.
– Go for Boards and fill in all required information. Place the first code into your page where you want your Pinterest board to appear.
– Place the second code in your websites code. If you don't feel experienced enough to actually edit your websites theme, use a plugin like Header Footer Code Manager.
3. I started using a Pinterest scheduler
Official Pinterest scheduler Tailwind has changed my life by saving me time and bringing my pins in front of the right audience at the right time. To be successful on Pinterest you have to consistently pin high quality content. Consistent and daily pinning is what's going to help you get more blog traffic. And that's where Tailwind becomes useful.
What is Tailwind?
Tailwind is an official Pinterest scheduler. With the help of Tailwind you can schedule your entire Pinterest content for the month in less than an hour. In addition, Tailwind also figures out what the best times are to post your content.

For me scheduling is extra useful because I am often asleep or busy with other things when my potential customers are active.
It has saved me a lot of time and my Pinterest traffic has skyrocket!
Click here to get your first month free.
4. I used Tailwind Tribes to get repins
Another powerful Tailwind tool is Tailwind Tribes. It's basically groups of other pinners that share the same interest and niches. The purpose of tribes is to share each others content so you will reach other audiences.

With tribes you're almost certain to receive shares, since you are supposed to repin something for every pin you post in the tribe yourself. Just tribes alone will create a lot of possible traffic to your blog.
5. I use click-worthy Canva templates
Pinterest LOVES new pins! The easiest way to make new pins for old content is to make new pin graphics for your old posts. The quickest way to do this is by using Canva templates.

Below are some of my best performing Pinterest pins. Do you notice the big colorful headlines?
Boost your blog traffic by making new pins. Use my 10 pre-made Pinterest templates that you can easily customize in Canva.
CREATE CLICKABLE LINKS WITH MY WELL-DESIGNED TEMPLATES!
You'll get..
10 customizable beautiful Pinterest Templates for your content, for just $10!
Make lovely pin graphics in just a few minutes so you can spend more of your time growing your blog and business.
– Quickly customize the templates by replacing the image, adding your own headline and changing the fonts and colors to fit your personality and brand.
– Use them over and over again.
– Create your own click-worthy pins in minutes!
6. I started implementing Pinterest SEO
Because Pinterest is a search engine it is important to use keywords in your title and description that are actually used to search by potential customers.

When you look up some words from your blog post on Pinterest you get a number of recommendations with related keywords. For example, if you blog about parenting tips, you will see the keywords below.
You should also mention your keywords in the following places:
Username
Profile description
Board titles
Board descriptions
---
Over to you – tell me which Pinterest marketing tip is your favorite? How do you increase your blog traffic with Pinterest?
Liked this post? Pin it below!