10 Best Valentine's Gift Ideas for Men
10 Best Valentine's Gift Ideas for Men
Searching for Valentine's gift ideas for men? Whether you are looking for something romantic, trendy or funny this list will cover some of the best Valentine's gifts for boyfriend or husband. In this post I will show you my top 10 Valentine's gift ideas for him.
This post may contain affiliate links from Amazon.com. Please read my disclosure for more info.
1 | Noise Cancelling Headphones
Black Noise Cancelling headphone pair that makes the perfect Valentine's gift for music lovers!
2 | You're My Favorite Asshole Keychain
This key chain is one of the funniest, cutest and inexpensive Valentine's gift ideas for men.
And it's made of stainless steel.
3 | Laptop Backpack with USB Charging Port



This fashionable laptop backpack offers an easy access to charge his devices with a power bank.

4 | Robot Vacuum Cleaner
This Robot Vacuum Cleaner is a huge time saver. It's an automatic vacuum cleaner that you can set to vacuum your home for you. Which will result in more quality couple time.

5 | Funny Coffee Mug
Looking for a present that he will actually use and appreciate? This funny coffee mug will make him laugh for sure.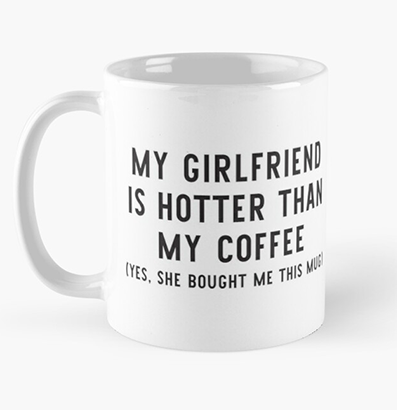 6 |

Shiatsu Neck and Back Massager
I can't live without mine! This Shiatsu Neck and Back Massager will help him get rid of muscle soreness, ease neck stiffness and will help him relax after a long day at work.
7 | Waterproof Shower Speaker
Make him jam in the shower with this Waterproof Shower Speaker. It offers up to ten hours of playback time on a single charge!

8 | Electronics Organizer Docking Station
If your man keeps losing his keys and wallet, get him this Electronics Organizer. It wil hold his phone, keys, wallet, spare coins and even has space for a USB cable.
9 |

Ear and Nose Hair Trimmer
Made of high quality stainless steel, this budget cordless Ear and Nose Hair Trimmer can effectively and comfortably remove unwanted hair from his nose, ears, eyebrows, beard and face.
10 |

Chiller Sticks for Beer Bottles
Help him keep his beer cold for a long time with this set of beer chiller sticks.

I hope you enjoyed this list of 10 Valentine's Gift Ideas for Men and found some great ideas to buy for the man in your life!
Useful? Pin it for later ↓
Related Posts You Will Also Love: